Next up in our series of posts meeting the MSPI students, we will meet Muhammad Usman, who is in his first year of the MSPI program.
To provide some background to you as a person; Who are You?
I am Muhammad Usman
 Where do you come from?
I come from Gujrat, Pakistan
Where did you do your bachelor degree?
I done my Bachelor's degree in Electrical engineering from HITEC University, Pakistan
Why did you choose MSPI and BTH?
When I was in Pakistan I used to observe the life style of people live in my surrounding. I noticed that we have all kind of facilities but we are not aware how to use them in a better way. Then I decided to do something innovative to make the things more comfortable for them and should provide them a platform where I can educate them well so they can also improve their lives and do take part to make societies more sustainable socially, economically and environmentally. So I talked to my Brother Nasir (who was working at BTH at that time and still working) that I want to do masters in that kind field where I could learn and explore about sustainable product-service systems and innovation. He said we have that program here at BTH. I applied and got admission at BTH.
How are you finding the MSPI experience and your time at BTH so far?
It's been great. I met with some intellectual people here. I liked their way of teaching and most importantly they encourage the students to participate in workshops and industry visits. I have been worked with Dynapac Atlas Copco in a course project where I always been get in touch with company representatives, BTH staff members. They guide me at every moment. I observed they are too much cooperative when I need help.
What has been your favorite course so far, and why?
All the courses I studied so far gave me more knowledge than I expected but one course I liked more is Value Innovation. In that course, I learnt some basic tools such as Need finding, Customer value chain analysis, Customer journey map, Kano model while doing the project on the Small Asphalt Compactor CC1000 with Dynapac Atlas Copco.
MSPI features many projects and project courses, which project are you most proud of? 
I have been done several course projects. I obtain bundles of knowledge from these projects. The final assignment in the Strategic Sustainable Development course I did with 'Gylles Lenarths' Karlskrona is one of my favorite project. Actually, I have a business mindset so I found it very useful and also picked some interesting rules that will help me to flourish the business in future.
Have you attended any extra-curricular activities? What have you learnt from this participation? 
I participated in kids BTH Competition, International Day and Welcome Party by BTH. It was great fun over there and I enjoyed a lot and most importantly I met with new people and made contacts with them.
The key areas for the program are Sustainability/sustainable development, Product-service systems and Innovation. How do you think engineers can benefit from mastering these perspectives? 
As we all know the issue of global warming is arising day by day and because of that we are facing very serious outcomes in the form severe diseases so we need to educate the world to overcome the problem. For that Sustainability and Product-service systems and innovation program can play a vital role to erode those severe problems. So engineers should focus on these courses they are the right person who can relate social and environmental problems with innovative solutions.
Why is this essential for companies to take these views into consideration?
Companies must address these issues and put them into their priority list. The best way to tackle the problems is to give awareness and educate all of us about their pros and cons. For that, they should arrange seminars, workshops for engineers, surveys all over the world and bring some innovative ideas to address that issues.
What is the main challenge in this field in the future? 
As this field is related to Sustainable Product Innovation, so the main challenge is not just in the development and formulation of a sustainable strategy and vision, but in the implementation of this new strategy in real life. During the implementation process, the theoretical strategy needs to be translated into practice.
What do you see as essential developments for society relating to this field in the future?
There are several issues that should be highlighted and needs to be improved quickly. However, here I am going to talk about the poverty and to educate and give awareness to people. We need to eradicate poverty in all its forms and dimensions, including extreme poverty, are the greatest global challenge and an indispensable requirement for sustainable development. All countries and all stakeholders should collaborate with each other. We need to take the bold and transformative steps which are urgently needed to shift the world onto a sustainable and resilient path. We need to ensure that all human beings can enjoy prosperous and fulfilling lives and that economic, social and technological progress occurs in harmony with nature.
In your opinion, what is the most important thing the education programme should focus on? Why?
As I am in master's course and my mainly objective is do more practical work than theoretical. Yeah theoretical is also important but you need to focus on more practical work like in each learning period, you should fix 3 to 4 weeks just for complete practical work. During that we should allowed to contact industries responsible persons directly and can discuss with them our project related work. I order to get more knowledge, we should have access to work with professionals for some time to groom own skills.
What would recommend to future students interested in these topics?
As I talked above about the issues we are facing socially and environmental related, I will encourage the newcomers please join us and lets together erode the problems by giving them innovative solutions. Everybody have skills to do something unique so I would recommend you come here, learn new things and let's do some contributions for society and for our own future.
What are your expectations for the rest of your education? Say you're sitting after your graduation celebrating your success, what did you achieve?
I am more like social person. I would prefer to get command on those techniques who are directly linked with common person e.g.  let's suppose a person come to me and ask I am having trouble in some health issue, could you make a product for me that can sort out my problem. So at that time I must be in a position to develop that efficient innovative product by using the innovative tools. This is just the example to give you some understanding. There are several other expectations I have and will expect to fulfill them during my education here at BTH.
What would be your dream job after graduating from MSPI?
I would prefer to start my own business. However, after the completion of degree, I must need some experience so I will definitely do a job as a development engineer or may be as a consultant.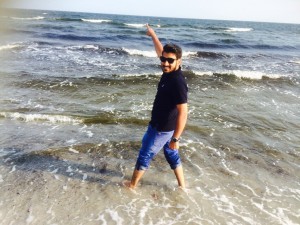 What kind of hobbies and activities do you enjoy in your spare time? 
Usually I prefer to play badminton, Cricket and soccer. Sometime, I also read the biographies of successful entrepreneurs that really keep me motivate all the time to do something unique.