MSPI – For a better world!
|
Join a cutting edge product-service innovation program!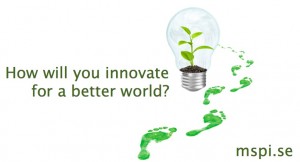 Master's in Sustainable Product-Service System Innovation is an educational program at Blekinge Institute of Technology.
Industry needs people who understand what the world wants: innovative products and services delivered in the most sustainable way possible. At BTH, we believe that combining an overarching approach to socio-ecological sustainability with a Design Thinking approach to meeting market and human needs through product-service systems is the way of the future, and we are doing our part to show the way.
By closely collaborating with our industrial partners, we are preparing people to be the next generation of innovators by bringing together engineering, innovation, and sustainability competence through this unique master's program.
Listen to some words on the programme from previous students and the programme director, Prof. Tobias C. Larsson.
MSPI students learn how to harness their creative talent to design, products, services, and product-service systems that help companies create value, and society to reach socio-ecological sustainability.
Graduates of the program are prepared to drive product innovation that both meets user needs and generates key competitive advantages in the expanding sustainability-driven market.
On these pages you find out more on how to become a part of this program as a student, or as a collaborator.
Feel free to contact us!
Programme Director: Christian Johansson, christian.m.johansson@bth.se.
Professor Tobias C. Larsson, tlr@bth.se.